Analysed for you:
Parship.co.uk
Matching personalities. Meeting expectations.
Pros and Cons:
One of the biggest online dating agencies in Europe with over 125,000 UK members.
Detailed, comprehensive personality test comprised of 80 in-depth questions.
Excellent service.
You cannot sign up via the Parship app – in order to login you need to use either the desktop or the mobile site!
Mostly free – except for when you want to initiate contact with another member by sending a message. In this sense, only paying members can communicate and are therefore a lot more serious about finding a partner.
What we think: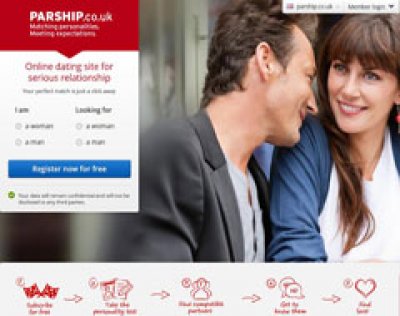 Parship.co.uk
Try out for free NOW!
Matching alternatives:
Composition of members:
125,000
UK members
47 : 53
Average age of members:
Women : 34.0 years old
Men : 33.7 years old
Number of registered members:
125,000 UK members
23,000 new members every week.
Around 11 million members in Europe.
Test result:
| | |
| --- | --- |
| Quantity of proposed partners: | |
| Quality of the matching algorithm: | |
| Given contact guarantee: | |
| Quality of user profiles: | |
| Handling and design: | |
Test summary:
Parship: How it works
The principles of Parship are based on a scientific personality test which is designed to determine people's compatibility with others as romantic partners. It is done to discover what balance of similarities and contrasts your personality has. The most fitting then will be marked out as potential romantic partners or "contact proposals" - taken from the 11,000,000 members.
Most singles know that they end up dating or getting into a relationship with a specific "type" of person… These patterns are often what end up causing such relationships to end, mainly because few people deviate from what they know. What's nice about Parship is that a lot of the partner suggestions you receive tend to be different from your normal "type" but who could theoretically be very fitting to your personality!
So how do you sign up to Parship?
It's actually quite easy! Once you've put in your email address and your password, simply begin answering the questions on the personality test. There are 80 of them, all of which are aimed at determining your character and creating a detailed analysis of your whole person as a romantic partner. The test itself isn't very long (most people are finished in just over 10 minutes).
Once done, you get into the internal member area where your contact proposals/partner suggestions are shown. What's more, you will receive new suggestions on a regular basis.
Who uses Parship.co.uk?
The main target group of Parship.co.uk are singles who are somewhat settled and secure in their lives and on the lookout for a serious partner. Singles on Parship are not looking for a bit of flirting or casual dating… they are looking for someone to share their lives with and therefore are trying to find someone who is like-minded. Most of the members here are over 25 years old and therefore settling into their careers and know what they are looking for in life.
Can I try Parship for free?
Members can sign up to Parship for free – and even take the personality test (with appropriate results) and look at their partner suggestions. Downloading the app for Android and iOS is also free. The only time you have to pay is when you want to send messages to other members! When you subscribe, you pay a different price depending on the length of the subscription.
Steps to success:
Then you can also buy your PARSHIP detailed personality test.
Given contact guarantee:
Fair:
Depending on subscription type, PARSHIP guarantees a certain number of contact proposals. Those who have not received their promised amount of proposals will get a free extension of membership.
"Contact" means someone who can mail you back.
However:
You have to put some effort in yourself! Fill out your profile, make sure to upload photos, etc...
Quality of the matching algorithm:
What Does the Matching?
A computer algorithm that was developed in collaboration with Professor Schmale of Hamburg University and collected 30 pairs of psychologically relevant aspects of personality .

Significant Improvement
The algorithm notices more accurately whether a member is recently active or not. Contact your proposals no longer contain only "the most appropriate members". Experience has told us that many of these could not reply due to not being premium members. Rather: The contact suggestions you get displayed are tested in addition to when the last time they were active (usually the premium members).
The likelihood that you will write to a member who can't reply is much lower than eHarmony!
Free services:
Short online test scores regarding your personality.
See member profiles.
Answer messages from Premium Members!
Refuse when you're not interested in a contact proposal.
Premium services:
You can choose either Premium Lite, Classic or Comfort.
This allows you to view photos and even enjoy a Contact Guarantee from Parship.
As a premium member you can also:
View your visitor list.
Search your local area.
Regularly updated partner suggestions.
Send, receive and read messages.
Receive your Personality Report in book form.
Photo exchange with your contact proposals.
Payment options:
Credit card (Visa, Master Card, American Express, Diners)
---
Matching alternatives: