Analysed for you:
AdultFriendFinder.com
Meet real sex partners tonight!
Pros and Cons:
AdultFriendFinder.com is the largest sex dating portal in the world.
Pretty hardcore when it comes to sex (erotic blogs, sexy webcams etc.)
Most certainly a larger number of men, however few of them actually pay for membership. This means that premium members have a distinct advantage when it comes to looking for action.
There are quite a few fakes around, as well as prostitutes looking for clients and webcam strippers looking for someone to pay them.
Prices on AdultFriendFinder aren't necessarily expensive, and there are different types of subscription.
What we think: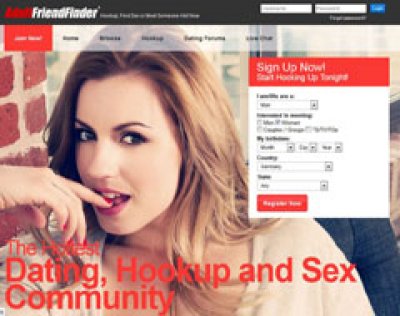 AdultFriendFinder.com
Try out for free NOW!
Matching alternatives:
Composition of members:
3,000,000
UK members
81 : 19
Average age of users:
Women: 34.3 years old
Men: 36.6 years old
Minimum Age: 18 years old
Number of registered members:
3,000,000 UK members

Over 60 million worldwide
Test result:
| | |
| --- | --- |
| Interactivity: | |
| Quality of user profiles: | |
| Handling and design: | |
| Search filters: | |
Test summary:
How does AdultFriendFinder work?
You could describe AdultFriendFinder as an international sex dating platform with 3,000,000 UK members. There is a lot more to this service than just casual dating, however. It can also be seen as an online community (albeit one that focuses around erotic encounters and sex). Users can contribute to the community through things like webcams, chat sessions and forums. Active contribution is not compulsory: you can also be a silent observer and simply enjoy looking for and meeting up with members, uploading photos, videos and reading the forums.
The focus here isn't just on casual dating or looking for people for sex: it is also for those who want to try something new in the area of erotic adventures. This is particularly good for those who may have a specific fetish.
What kind of people are on AdultFriendFinder.com?
There are all kinds of singles and attached people on AdultFriendFinder.com. Bakers and bankers alike set up profiles for a multitude of erotic reasons, with some of them being rather discreet about their activities (others are totally unashamed and play the exhibitionist). It all depends on the type of member!
AdultFriendFinder prices
There are different price categories on AFF. This depends on what you want. There will be one type of subscription for those who want to be able to send messages and view webcams, as well as another type for those who want to see videos. Of course, you can get a combination of all of these. Just make sure to take a look at the prices.
Steps to success:
You register with an account (providing name, age, email address and preferences…).
Make sure to upload a photograph of yourself (these profiles will receive a higher number of messages and contact requests).
You can then fill out your personal and sexual preferences, as well as your own traits and characteristics. Make sure that you fill this out in full, so that other members who see your profile will understand what they want.
A space for free text allows you to elaborate on your character, and, of course, explain exactly what you are looking for.
Given contact guarantee:
AdultFriendFinder maintains that you will find a hookup on their site within three months.
If this doesn't happen, then they will offer you three months extended membership, completely free.
Quality of user profiles:
Since there is the option to upload nude pictures without being checked, there are a lot of pictures of genitals and other body parts (breasts, penises, etc.). This may not suit everyone.
Members can also post a video on their profile, which can further serve to add to the explicit nature of profiles here.
Anti-Fake Measures
Profiles are manually checked by editors.
Our profiles were therefore delete, being made for fun.
Photos Possible?
Large number of photos possible.
Upload photos from webcam or a file.
Edit images online.
XXX photos can also be uploaded.
Upload videos.
Anonymity Protection?
You can make photos only visible to friends.
You can also go invisible when online.
How Do You Show Yourself Off?
Answer extension questions about you and your partner preferences.
Additional questions regarding sex (fantasies, toys, etc.).
Small personality test.
Free text is also possible in the profiles.
Proof of Identity?
Optional: You can use a driver's license or similar ID to prove this.
Free services:
Posting up a profile is free.
As a free member, you can start up to 20 IM conversations per day.
Limited search and profiles in the Preview view.
You can write to premium mebers.
Blogging.
Premium services:
Other features include viewing profiles in full, private chat and Profile Highlight.

Profile Highlight:
3 Months = £5.95/month
1 Month = £6.95
You can also...
Send messages and arrange to meet.
View unlimited number of profiles and photos.
Be listed first in searches and your profile will be seen five times more often.
"Power Search" by region, appearance, education and date.
Premium Services
Viewing a profile in full.
Sending and receiving messages and private chat.
Profile highlight allows you to attain a better place in the search results, hence increasing your visibility.
Gold Membership:
3 Months = £13.33/month
1 Month = £15.00
Profile Highlight:
3 Months = £5.95/month
1 Month = £6.95
Payment options:
Credit cards
Direct debit
By telephone
Fax
Click&Buy
Frequently Asked Questions:
---
Matching alternatives: